Try these creamy and delectable Southern pumpkin pie recipes for the ideal holiday treat. There are various fall food classics, but a good old-fashioned pumpkin pie recipe with homemade crust is one of the most essential. Pumpkin's semi-sweet, seasonal flavor blends nicely with a buttery flakey pie crust to make a delectable treat. If you're looking for the best pumpkin pie recipe ever, you'll find it below!
This post contains affiliate links. I may receive a commission for a qualifying purchase. See my affiliate disclosure for details.
Pumpkin pie is a splurge-worthy dessert that can be served in a variety of ways, including plain, with a luscious creamy filling, and with crushed candied pecans or crisp ginger snaps.
There are many American pumpkin pie recipe options available for first-time pumpkin pie bakers. Regardless of the version, our greatest pumpkin pie recipes can satisfy your family's Thanksgiving dinner or a Friendsgiving gathering. Keep this delectable American tradition alive this year by serving one of our favorite pumpkin pies!
Don't allow meal planning to get the best of you. These simple pumpkin pie recipes will be the perfect ending to an amazing Thanksgiving feast, leaving your guests perfectly satisfied. Even if you're just learning how to cook pumpkin pie for the first time, this recipe is a winner.
Southern Pumpkin Pie Recipes for Any Occasion
Easiest Pumpkin Pie Recipe Ever!
As the name states: This is the easiest pumpkin pie recipe you'll ever make! The Pillsbury Pie Crust eliminates all of the hassles, and the super-easy filling can be prepared in one dish and put into the crust in a matter of minutes.
Gather your pumpkin pie ingredients for a pie that's wonderful for Thanksgiving or any time of year. See how to prepare pumpkin pie with only 7 ingredients and 5 minutes of prep time. (source – Pillsbury)
Perfect Pumpkin Pie Recipe With Sweetened Condensed Milk
Here is one of my favorites! This pumpkin pie recipe with sweetened condensed milk turns this traditional dessert the perfect ending to a Thanksgiving feast. (source – Allspice)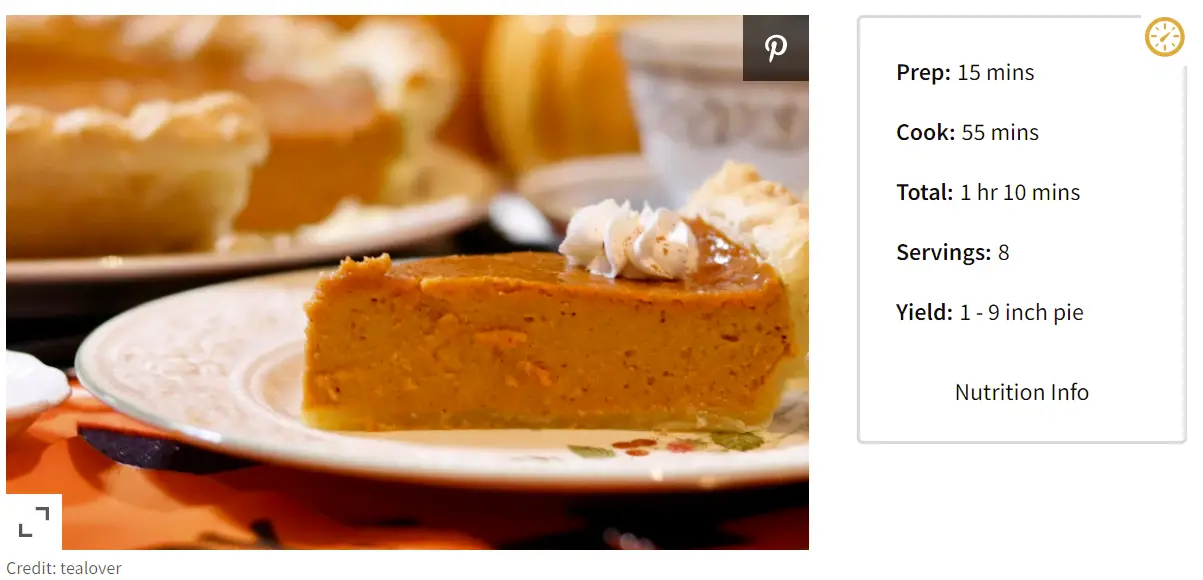 Why use sweetened condensed milk used in baking?
In baked goods, condensed milk lends tenderness, moisture, and flavor to the recipe, as well as color to the crust. Condensed milk is very popular for use in desserts and sweets—it's a prime ingredient in an old-fashioned key lime pie and amazing pumpkin pies!
Pumpkin Pie Recipe From Scratch With Real Pumpkin
For those of you looking for the most authentic holiday flavor, I have included this pumpkin pie recipe from scratch with real pumpkin. If you have never had a pie made from real pumpkins, there are a few differences you'll notice. (source – FoodNetwork)
Pumpkin Puree vs Pumpkin Pie Filling
A pumpkin pie recipe scratch version has a slightly better texture and is heavier than a canned pumpkin pie filling. This is primarily due to the fact that many purees contain less moisture than canned pumpkins.
Also, canned pumpkin puree contains 100% pumpkin without any additional spices or flavors. On the other hand, pumpkin pie filling features pureed pumpkin flavored with the spices traditionally found in pumpkin pie: cloves, cinnamon, allspice, and/or nutmeg.
Hershey Pumpkin Pie Recipe
This recipe for sweetened condensed milk pumpkin pie goes beyond anything you've ever tried before. HERSHEY'S pumpkin pie recipe elevates the traditional Thanksgiving meal by including HERSHEY'S Milk Chocolate Chips. It could become your new Thanksgiving favorite! (source – Hersheyland)
Very easy to make, contains only a few ingredients, and is lots of fun! This HERSHEY'S pumpkin pie recipe is very rich but oh-so-delicious.
Pumpkin Pie Recipe No Dairy
This recipe for Pumpkin Pie Recipe No Dairy is absolutely amazing! This coconut milk pumpkin pie is creamy, delightfully sweet, and full of warm fall spices – a must-make Thanksgiving treat. (source – JoyFoodSunshine)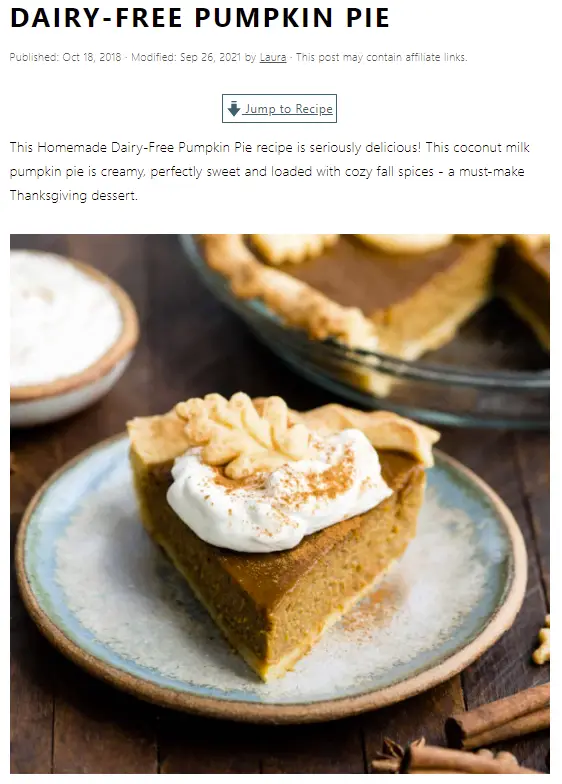 People who are lactose intolerant may struggle over the holidays. And that would include, yours truly!
Every creamy dish and dessert is laden with dairy in one form or another – milk, half and half, cream, butter, and so on.
While many people love the holiday season, especially for the festive treats, I and my other lactose-challenged friends search for alternatives to traditional festive food recipes.
This recipe is the perfect substitute for the real thing, without sacrificing texture, taste, and enjoyment!
Healthy Crustless Pumpkin Pie
This healthy crustless pumpkin pie recipe is out of this world.
You could eat all 8 servings of pie and yet consume less fat and calories than if you ate just one slice of several typical pies!
While I wouldn't recommend eating a full pie in one sitting… don't tempt me with this one! (source – ChocolateCoveredKatie)
Ice Cream Pumpkin Pie Recipe
If you want to really surprise your dinner guests this holiday season, this Ice Cream Pumpkin Pie recipe is a "can't miss"! A frozen pie using pumpkin and vanilla ice cream sounds too dreamy. And it's as good as it sounds! (source – All Recipes)
Southern Pumpkin Pie Recipe
There's pumpkin pie and then there's this Southern Pumpkin Pie recipe featured on Southern Living. Beware – This is the real deal! Loads of ingredients and painfully executed steps. However, the "juice is worth the squeeze", as they like to say
Keto Pumpkin Pie Recipe
This Keto Pumpkin Pie is the perfect low-carb dessert to create this Fall season. It's creamy and delicious. It's surprisingly simple to create, yet it's spectacular enough for special occasions like Thanksgiving. It's so delicious that even non-keto eaters will like it! (source – Green and Keto)
Pumpkin Pie Eggless Recipe
This incredibly simple pumpkin pie recipe uses no eggs and is a family favorite. This pumpkin pie eggless recipe is a must-make this holiday season, filled with fragrant warming spices, handmade pumpkin purée, and an all-butter homemade pie crust. (source – Veg Recipes of India).
This is a tasty alternative to traditional pumpkin pie, for those with food allergies.
Holiday Pumpkin Pie Recipe With Evaporated Milk
The holidays are fast approaching, and pumpkin pie is a must-have for our household. This is a simple Holiday Pumpkin Pie Recipe With Evaporated Milk that yields a rich and creamy pie.
My family adores this pie, as it delivers a bit more depth of flavor than the average pumpkin pie. The addition of clove gives it the hint of holiday that makes this one particularly festive. (source – The Southern Lady Cooks)
I hope you enjoyed, Southern Pumpkin Pie Recipes. Be sure to check out our Eastern Shore Recipes page for more Delmarva classics!