Print Recipe
Nothing is more synonymous with the Eastern Shore than a simple chicken and dumplings dinner. Facts. As I grew up, every household made chicken and dumplings, with the only differences being the side dishes served. My favorite side dish then and now is still sweet potato biscuits, if you're wondering.
While seafood is a big part of life on Delmarva, I've actually met a few people that weren't terribly fond of it. I know that's hard to believe, but true story.
This post may contain affiliate links so I earn a commission. Please read my disclosure for more info.
However, when it comes to homemade chicken and dumplings … I've never met anyone that doesn't LOVE them!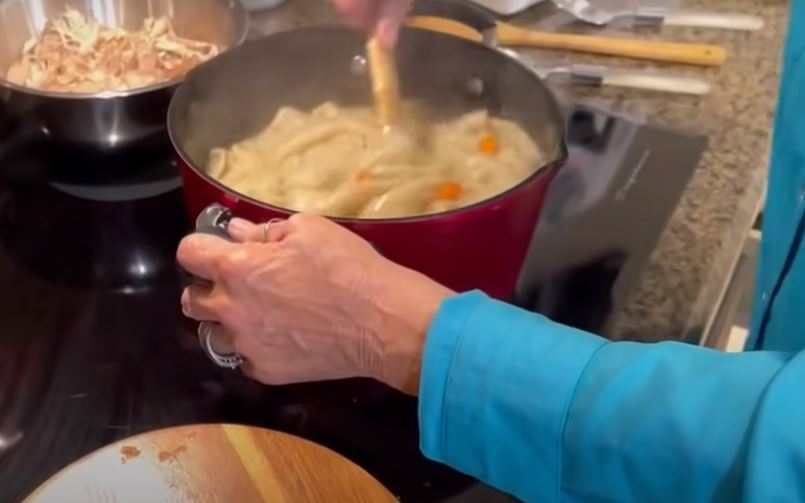 Chicken and dumplings made from scratch are super easy to prepare. Usually when people see the phrase "from scratch", they have a tendency to tense up. Trust me, anyone with a basic knowledge of the kitchen can master this recipe the first time.
Chicken and dumplings is basically a soup that consists of a chicken cooked in water, with the resulting chicken broth being used to cook the dumplings by boiling. The dumplings, either made from scratch or bought frozen, are cooked in the leftover water used to cook the chicken.
Years ago, everyone made their dumplings from scratch. But that was true for most recipes. Today, most people just use Anne's frozen dumplings. They save you a ton of time and they're delicious!
Many people are hesitant to make this southern dish because they reason a meal this good can't be that easy to make.
But it truly is.
Here is a short video from Paula Deen that illustrates the process. Even her recipe is more complicated than it needs to be, but this will give you a good idea of the process.
Note – Making chicken and dumplings is not an exact science. Be careful not to load too many dumplings into the broth at first, as it can become too thick of a mixture. Use fewer dumplings than you think you need, and add additional dumplings if you feel it needs it.
What you'll need to make simple chicken and dumplings Eastern Shore style
INGREDIENTS
1 whole chicken (2 -3 lbs.)
1 bay leaf
water
salt and pepper
1(1 1/2 lb) box frozen dumplings, strips
12 ounces of chicken stock
DIRECTIONS
Rinse chicken and place in a large pot
In a large pot boil the chicken with bay leaf, salt, and pepper. Once it comes to a boil, turn the heat down to simmer for an hour
Carefully remove the chicken from the pot and place it on a platter to cool slightly. After the chicken has cooled enough to handle, separate the meat from the bones. Discard bones and skin.
Pull chicken meat apart into small pieces.
Skim most of the fat from the broth and add enough water to get 4 or 5 quarts.
Bring the broth back to a boil and drop the frozen dumplings, a few at a time. It doesn't matter if the frozen dumplings break in this process. Stir occasionally to keep them from sticking together.
After all of the dumplings have been added to boiling stock, reduce to medium heat. Let them boil for a few minutes.
Reduce heat to low and stir in chicken meat and extra chicken stock. This will add a bit more salt and depth to the flavor.
Season with black pepper to taste.
Remove from heat, cover, and let stand 15 minutes before serving.
I serve this with cornbread; green peas are a good side dish.