Print Recipe
How to make beer can chicken recipes the easy way!
This is what a doubt one of the best ways to cook chicken! The chicken is always super moist and it's truly hard to get it wrong! My other favorite chicken recipe is Delmarva Chicken.
Beer can chicken in a smoker gives it extra flavor…
Barbecue smokers use wood, by their very nature, adds flavor. But they are not necessary to make great beer can chicken. Actually, the beer can chicken electric smoker style works well is a popular choice, that many people overlook. It is excellent for maintaining steady and consistent heat.
Will a beer can chicken fit on a Weber kettle?
Yes. The Weber Original Kettle is one of the most popular grills ever and is great for people who are learning how to beer-can chicken for the first time. Beer can chicken baked in the Weber grill is easy to master and so delicious!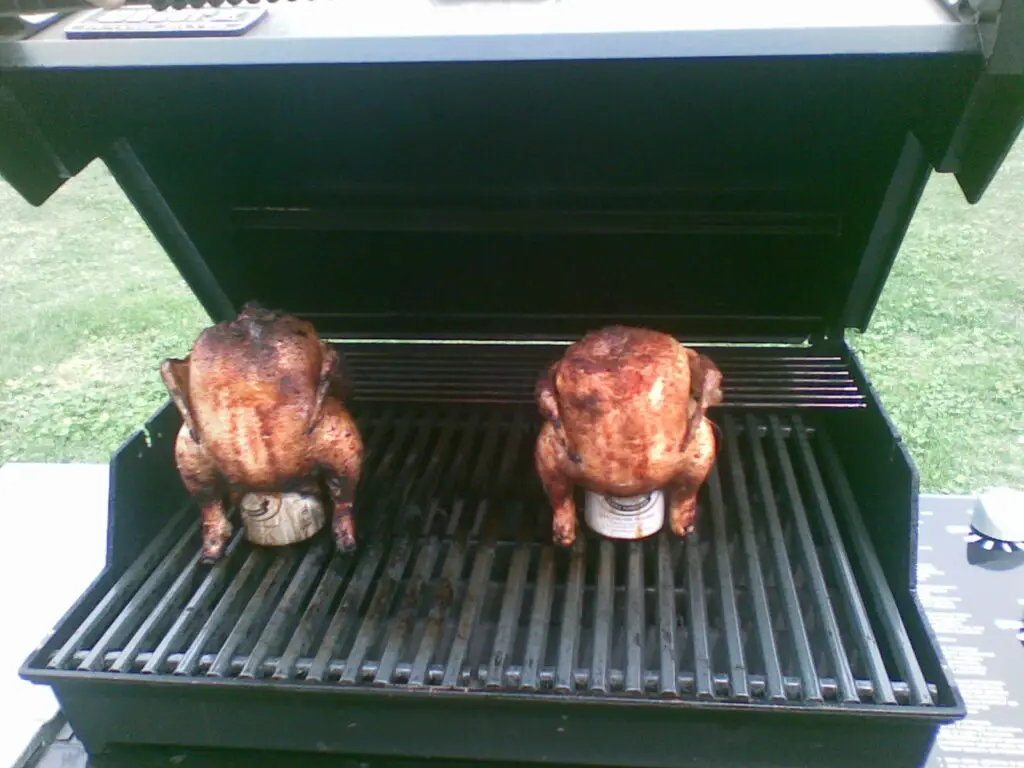 Beer can chicken best beer
This is the most asked question … What is the best beer for beer can chicken? The simple answer is to use the beer that you have. Since I am a pilsner-style beer drinker, that is what I normally use. Sometimes, I use other beers, but it is rare that I buy different beers just for this recipe. Feel free to experiment with this, since the chicken meat does pick up the flavor of the beer used.
Stand for beer can chicken
When I first started baking beer can chicken, I would simply place the chicken on the beer can and stick it in the grill. I received a stand for beer can chicken that makes this process much easier. It does however take up a bit more space in the grill due to the base, but you never have to worry about your chickens falling over.
Beer Can Chicken Brine Recipe – Optional
Some people like a brine for beer can chicken, but that is normally not the way I prepare my chicken and is not included in my main recipe.
But here's a simple recipe for beer can chicken brine. Simply place chicken in this solution and leave it in the refrigerator overnight.
Easy Beer Can Chicken Brine
8 cups water
1 cup kosher salt
3/4 cup brown sugar
3 cans beer
Here are the ingredients you will need:
This is a very simple recipe to make and chances are you have most of these ingredients already in your 'frig or kitchen cabinets.
Beer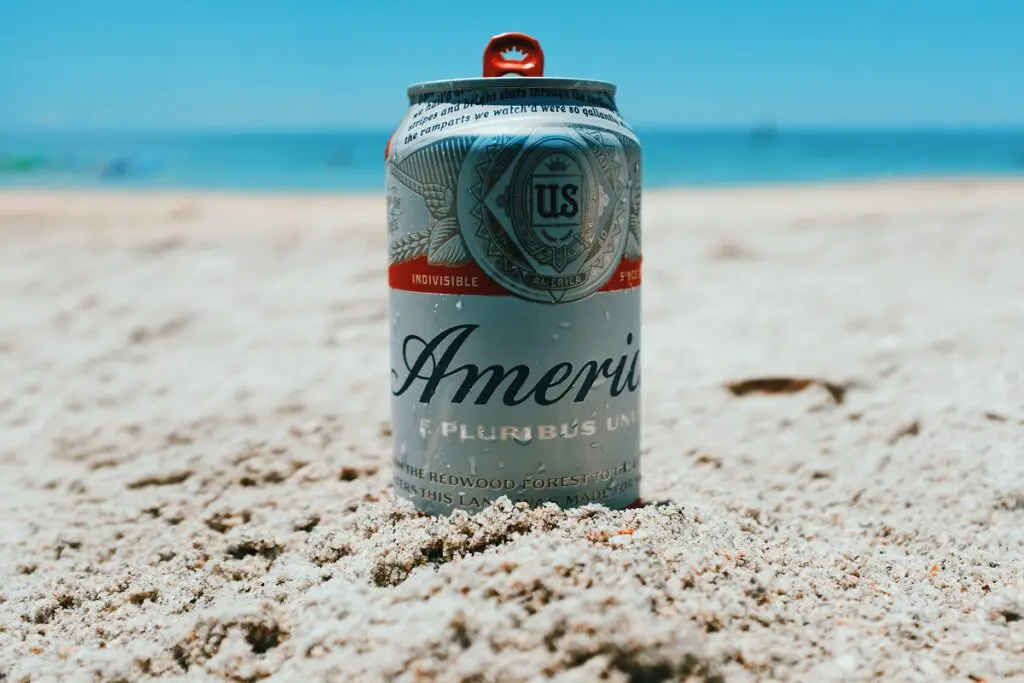 Lemon Juice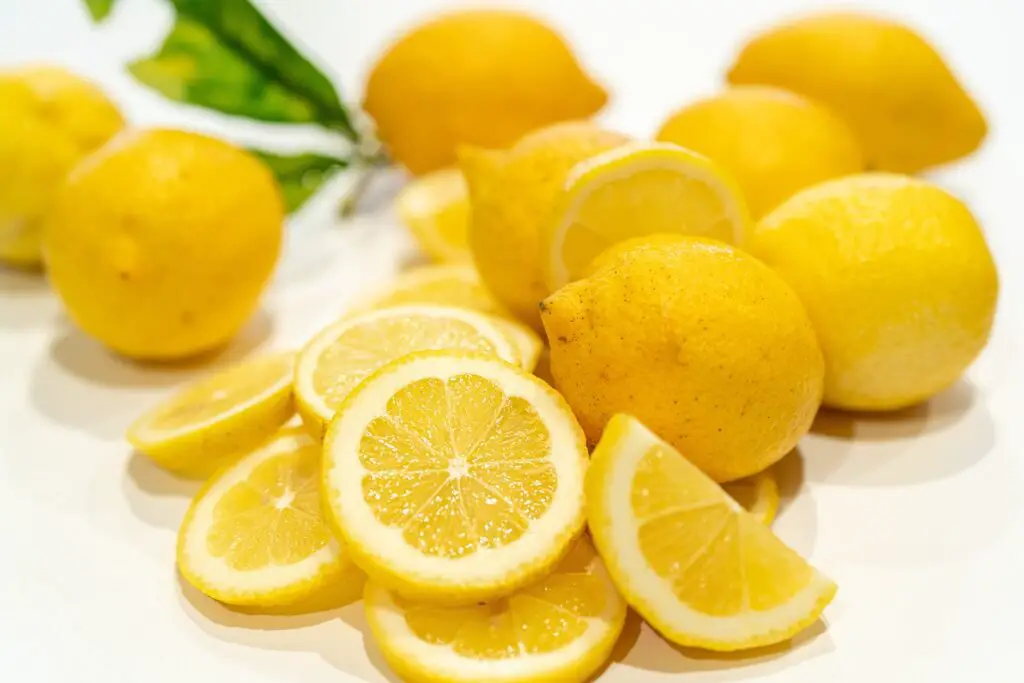 Barbecue Sauce
Salt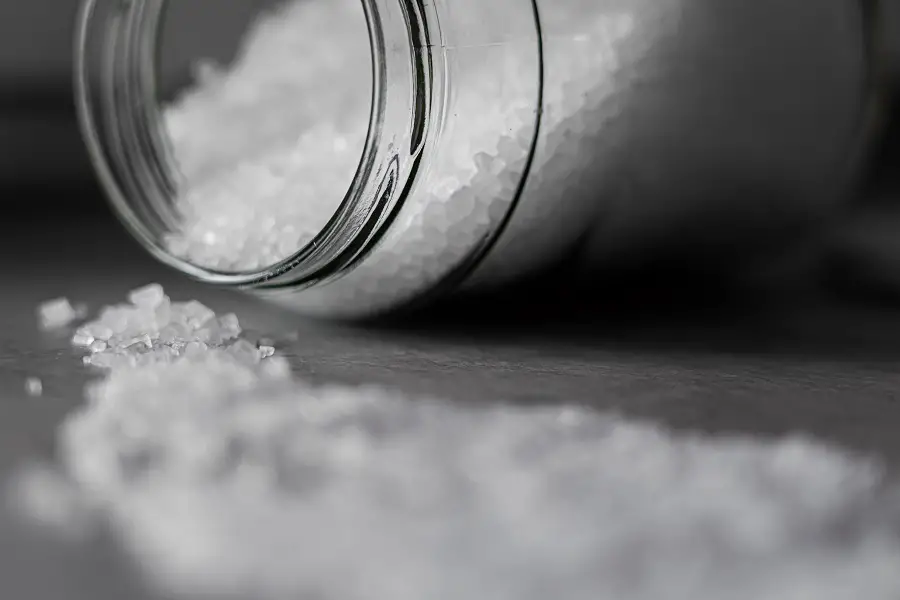 Ground Black Pepper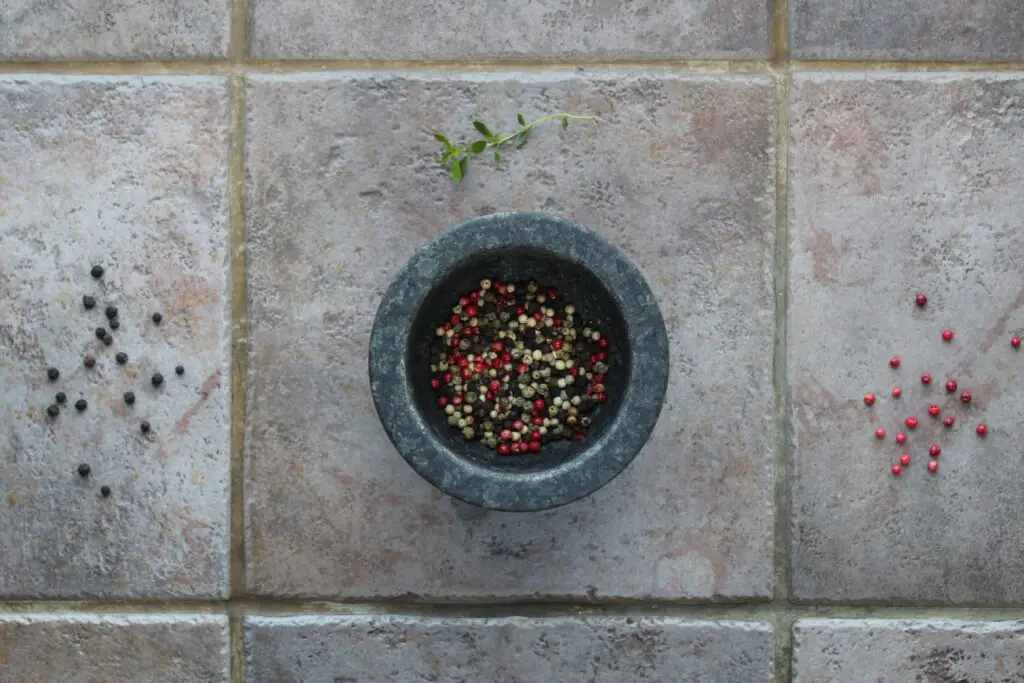 Chicken, Fryers
INGREDIENTS
Two 12-ounce cans of lager- or pilsner-style beer
10 tbsp. lemon juice
1/4 cup barbecue sauce
4 tsp salt
2 tsp ground black pepper
2 fryer chickens, about 3 lb each
DIRECTIONS
MOPPING SAUCE
Pour half the beer from each can into a bowl.
Add the lemon juice, barbecue sauce, 2 tsp of salt, and 1 tsp of pepper.
Leave each beer can half full of beer and set it aside.
BEER CAN CHICKEN
Preheat a gas grill to medium-high; leave one burner off.
If you are using a charcoal grill, build a fire and let it burn down until the coals are glowing red with a moderate coating of white ash.
Spread the coals in an even bed on one side of the grill.
Clean the cooking grate.
Blot the chickens dry and season with the remaining 2 tsp salt and the remaining 1 tsp pepper.
If you are using vertical roasters, add the reserved beer to the reservoirs in the roasters, assemble the roasters, and set the chickens on the roasters.
If cooking the chickens on the beer cans, set the cans on the grill over direct heat and carefully lower the chickens onto them.
Position the legs so that they balance the chickens. Grill over direct heat, covered, until golden, using a clean cotton mop to daub the chickens every 10 minutes with the mopping sauce, about 20 minutes.
Move the chickens to indirect medium heat and continue to cook them until they are rich brown and cooked through (165 degrees F), another 40 minutes.
Remove the chickens from the beer cans or roasters, transfer them to a platter, and let them rest for 15 minutes.
Cut into quarters with a kitchen fork and boning knife. Serve on a heated platter or plates.
What to serve with beer can chicken, best sides for beer can chicken
What I like about chicken is it can be paired with almost anything, such as vegetables, pasta, and even seafood.
Here are some of my favorite Southern side dishes and what goes well with beer can chicken
This post contains affiliate links. I may receive a commission for a qualifying purchase.